Healthier & Younger Looking Skin is just a CoolPeel away! 
Dial Down The Downtime With CoolPeel™  the Next Generation in Laser Skin Resurfacing
CoolPeel has been on the market for just a few years and it's making a statement. The capability to rejuvenate the skin, keep breakouts at bay, plump the skin and even out skin tone without the downtime of previous lasers is making CoolPeel one of the most popular skin treatments since 2019. Of course,  multiple treatments one month apart are recommended for best skin resurfacing results (3-4 treatments required on average). Acne scars and other severe skin issues may require Tetra CO2 laser settings versus CoolPeel to achieve favorable outcome and maximize results. Coolpeel is the perfect treatment for patients that want an immediate glow for upcoming events. You can now erase the sins of summer and visibly rejuvenate the skin in as little as one treatment.  Our younger patients love this because they can reap the benefits and don't have to miss out on work, events, or any part of their lives for more than a few days on average.  You may look a little sunburned for 3-7 days depending on how aggressive the treatment is performed.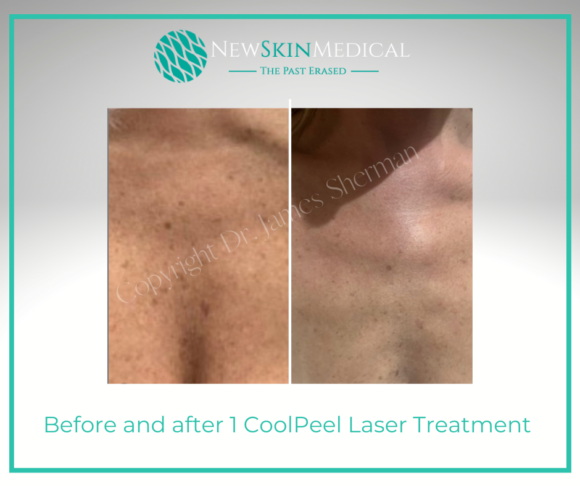 This incredible European developed  laser safely and comfortably targets the surface layer of skin, removing damaged skin cells and stimulating cellular tissue repair without damaging the surrounding tissue. As mentioned above CoolPeel helps to treat redness, reduces age spots, and treats sun damage. Acne scars, and severe blemishes  must be treated with Tetra CO2 settings, or require 3-4 CoolPeel sessions at minimum to achieve the result desired. Other C02 Lasers are known for their lengthy recovery times which is why CoolPeel is a good alternative for patients looking to refresh their skin without expecting results of a deeper skin resurfacing laser such as Tetra CO2. 
How Does Coolpeel Work? 
By utilizing the SmartXide Tetra CO2 laser, Coolpeel delivers high energy in extremely short pulses. Coolpeel penetrates the superficial layer of the skin without the lingering heat necessary for most laser treatments, avoiding damage to the surrounding skin. 
Who is a good candidate for Coolpeel?
You are a good candidate if you are looking to reduce the appearance of fine lines, improve sun damage, want to even out skin tone and/or improve overall skin texture. Darker complexions cannot be treated with CoolPeel or Tetra CO2 due to the risk of hyper-pigmentation. Ask us if your skin tone is right for this treatment.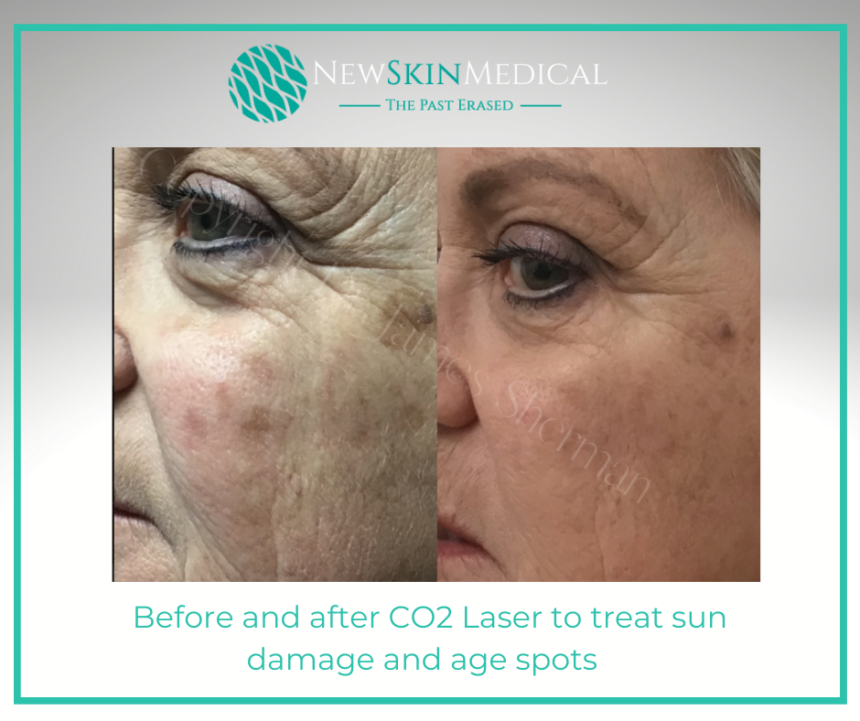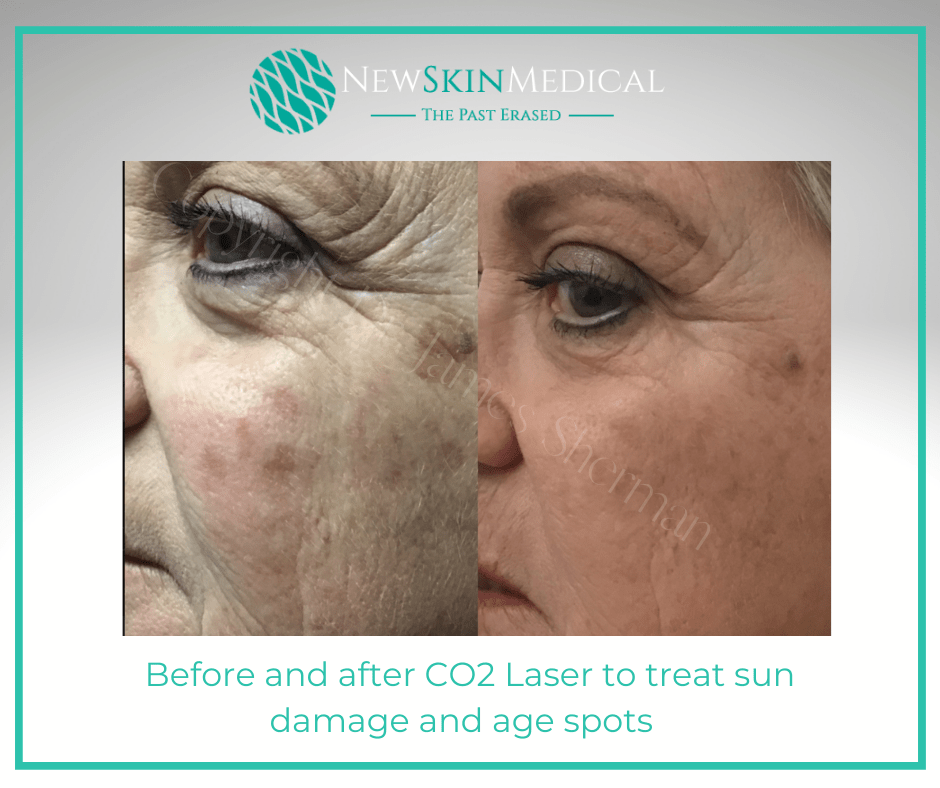 How long does one CoolPeel treatment take? 
CoolPeel Laser Treatments range between 30minutes to 1hour depending on what area is being treated and how many passes are performed
What is my recovery time?
3-7 days on average. Expect slight redness (like a minimal sunburn) for about two-3 days or less. Patients can immediately return to normal daily activities. Patients may experience dry/scaly skin as it heals, so we urge our patients to keep their skin moisturized and recommend direct sun for a few weeks after treatment. Wear broad-spectrum mineral based SPF30 daily. Apply at least 15 minutes prior to going outside or working on the computer. Remember blue-light is known to cause wrinkles, hyper-pigmentation and damage equivalent to prolonged sun exposure.  
When can I return to my skincare routine?
Discuss your skin regimen with our skilled estheticians during your visit. There may be some products you need to avoid while you're healing. We ask our patients to keep their skin hydrated to prevent itching. Alto Defense Serum by Skinbetter Science is the perfect post treatment serum to reduce redness and swelling after the procedure, but patients must be followed up with an effective clinically developed moisturizer. 
When to choose Tetra C02 Laser
Some patients cannot benefit from the CoolPeel and need deeper resurfacing. The Tetra CO2 Laser allows for deeper skin resurfacing in patients with deep lines and wrinkles as well as acne scars. Tetra CO2 requires more downtime and usually only requires 1-2 treatments to achieve results. Redness can last for 3-4 weeks or longer. CoolPeel is an extension (hand-piece) of the Tetra CO2 Laser.  Much like the CoolPeel Darker skin tones cannot opt for these type of lasers due to the risk of hyperpigmentation. Ask Dr. Sherman if you are an ideal candidate for either or laser skin resurfacing treatments.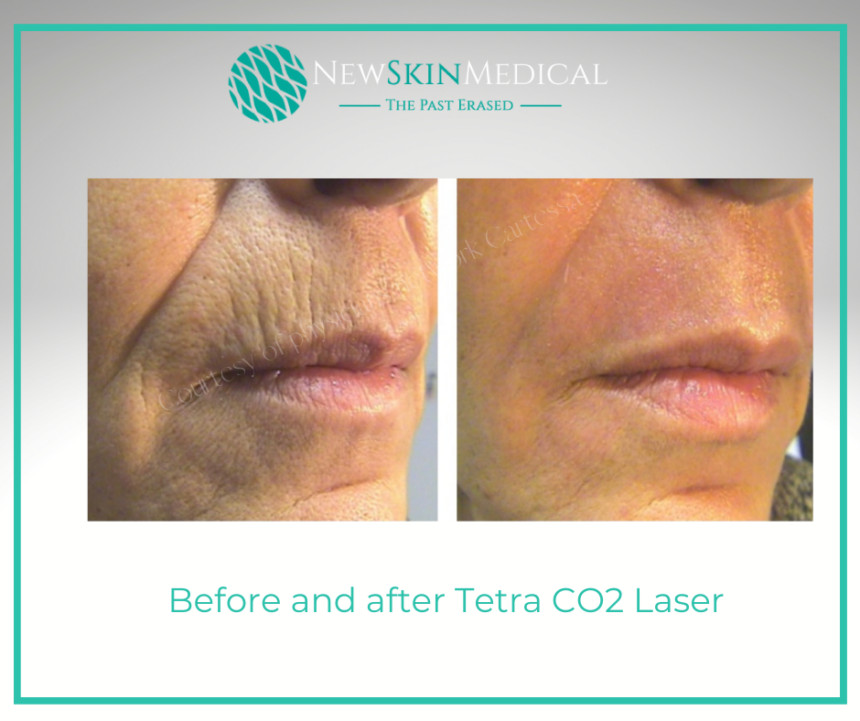 Treat severely damaged and aging skin

Treat deep acne scars and other severe scarring

improve sunspots and age spots

Improve skin laxity 
Ready to book your consultation with our fantastic team at New Skin Medical Spa in Martinez, GA Give us a call at 706–535-5548 or book your consultation online by filling out the form below! We look forward to seeing you!